Wadi
Image:Wadi.jpg

Vital statistics
Class
Ravinale Citizen
Status
Neutral / Enemy
Gender
Male
Race
Human
Health
12
Speed
3
Location
West Ravinale
Wadi appears in Telepath RPG: Servants of God.
Wadi, the husband of Rayhana is being accused of beating his wife by Rayhana's sister, Mahboob. Wadi seems to have an obsession with making more money.
Mahboob tasks Duvalier with chasing Wadi out of town for beating Rayhana. If Duvalier accepts Mahboob's mission, then he may learn that there is a little more to the story than the he is being told.
Melee (Range: 1, Damage: 2)
"Hello! Welcome to our home. Can I help you?"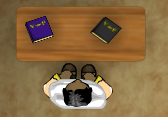 Community content is available under
CC-BY-SA
unless otherwise noted.