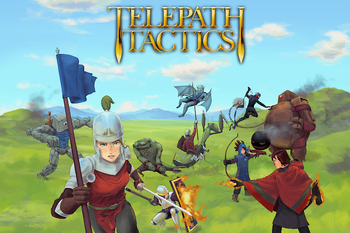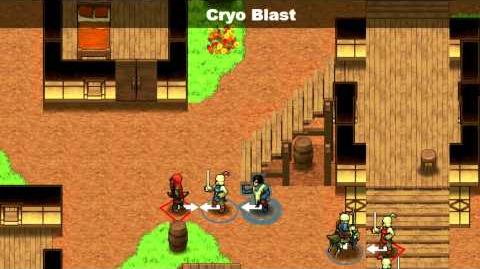 Telepath Tactics
is a turn-based tactical sRPG with destructible battlefield environments, multiple game types, elevation bonuses, status effects, and 23 unique unit classes with distinct strengths, weaknesses and abilities that shape their role on the battlefield.
Telepath Tactics features an intuitive mouse-driven interface and a million little wish list items accumulated from previous Telepath games:
battlefields can be any size
click on a character to see every space it can move to, then click a space and it will walk to it automatically
each unit has multiple elemental strengths and weaknesses
build battlefield objects (like bridges and barricades) in unlimited quantities, or place explosive charges to take down walls and other destructible objects
attacks that can hit at multiple ranges
battlefield elevation with effects on movement and ranged attacks
see every attack's element and base damage before you attack
Telepath Tactics features a single player campaign with dozens of unique characters in a tale of love, death, and intrigue. It takes place in the Dundar Archipelago, on the islands of Skolika and Kovit.
Plot Synopsis
Edit
It was deep winter when young Emma and Sabrina Strider fled slavery in the mines of Kovit. Exhausted and on the verge of starvation, they were found and taken in by a tribe of Lissit, reptilian warriors, who raised the sisters as their own.Now Emma trains tirelessly, bent on revenge and the prospect of rescuing their ailing father from bondage. But the years are never kind to a miner, and time grows desperately short. The sisters will need all of their wits–and the help of some unlikely allies–if they are to succeed…

Characters
Edit
Multiplayer
Edit
Telepath Tactics features six-player multiplayer with any combination of human players or AI opponents battling for supremacy. Team matches are supported, as well as multiple game types.
Multiplayer Game Types
Edit
Match Options
Edit
Moddability
Edit
Main article: Map Editor (Telepath Tactics)
Telepath Tactics supports custom maps (simple to create with the game's included Map Editor), as well as custom tilesets, custom destructible objects, custom items, custom attacks, custom character classes, and even entire custom single player campaigns.
Community content is available under
CC-BY-SA
unless otherwise noted.