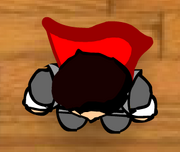 David appears in Telepath RPG Chapters 1 and 2.
Background
Edit
David is the brother of the Hero. He is said to be a very gifted Psy, even surpassing the Hero in potential. He was kidnapped by the shadowlings in TRPG1 to interpret enemy signals. The Hero liberates David from the Shadowling Camp, however, David has already been permanently wiped into a listless shell. The Hero then agrees to be Tastidian's slave for three years in exchange for returning David back to normal.
Involvement
Edit
Near the end of Telepath RPG 2, David gives the Hero their deceased Uncle Falstaff's black orb.
"No. No. I spent years getting over your death. You can't tease me from beyond the grave like this."
After the Shadow War, David will become a Black Cape at the head of his class in record time. He will be considered as having the most advanced Scanning abilities of any Psy alive.
Community content is available under
CC-BY-SA
unless otherwise noted.